Contacts
Lynq Media
Southern California, USA

E-mail: info a lynqmedia.com
Contact information
We would like to be your agency of choice. Please give us a call, e-mail, or fill out the brief form and a member of our team will contact you to discuss your project and arrange a quotation.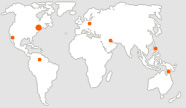 Client location is not a problem - we can service you from anywhere in the world.
Communications are easily handled by telephone, e-mail, fax and conference calls.